Hey there. What a week. On Wednesday I learned that the cover story of the Fall 2018 VQR, "A Culture of No," is one of two finalists for the 2019 American Bar Association's Silver Gavel Awards for Media and the Arts, which "recognize outstanding work that fosters the public's understanding of law and the legal system." And then on Thursday we won a National Magazine Award for General Excellence, which, for those of you who aren't in the magazine industry, is like winning an Academy Award for Best Picture. It's the big one.

We have been nominated—have been finalists—previously, in General Excellence and other categories. In fact, we were a finalist in the Essays & Criticism category this year, too, for our Spring 2018 cover story, "The Breakup Museum," by Leslie Jamison. And it is truly always an honor to be nominated. The VQR staff is small—only three full-time on the creative side until about two months ago, when we hired a fourth staff member. There is only one magazine with a smaller staff, Kazoo, which I'll talk a little bit more about in a minute. Last year, 2018, we were nominated for four Ellies (that's like calling the Academy Awards the Oscars), and that felt extraordinary coming off of such a difficult 2017. But grief has a long tail, and 2018 wasn't easy, especially since it ended in fire. (During the pre-ceremony cocktail hour, I joked that if we won, we could say in the acceptance speech that I came to work the morning after my house burned down, as a way of demonstrating our discipline and commitment to the work. (Really I just didn't have anything else to do.))


The VQR team with the Ellie immediately upon receipt
Me posing with the Ellie exiting the event #needmorepractice #heavilyfiltered
"Ellie" is short for Elephant—the shape of the statue, designed by Alexander Calder.

Here is my favorite writeup from the night, which recorded my reaction for posterity: "When the win was revealed, someone from the publication's camp screamed, 'Holy s—t!' and clamped her hand over her mouth in disbelief." Guilty. Other writeups make mention of people yelling at the DJ to cut the music when he tried to play off Erin Bried, the editor of Kazoo, during her acceptance speech. Guilty, yet again. Here is a little bit about Kazoo. It's a magazine for girls ages five to twelve. It has a staff of one (Erin). It was nominated for a National Magazine Award its first year out of the gate and it won this year, its third. My colleague Paul gave a shoutout to Kazoo as another small magazine in his acceptance speech for our award because small magazines like ours don't get enough recognition. Solidarity! Is there a girl somewhere around the ages of five to twelve in your life? Subscribe to Kazoo for her. It is super cool. It makes a great gift.

While I'm at it, maybe this newsletter has finally convinced you to subscribe to VQR. You can still use that Friends&Family discount code to get one year for $25. Our Fall 2019 issue is themed Bedtime Stories—a bonanza of fun and thoughtful content for children and parents and grandparents and anyone who has ever been any part of a family, good or bad. If you subscribe now, you can still get our Spring issue, which was just released two weeks ago.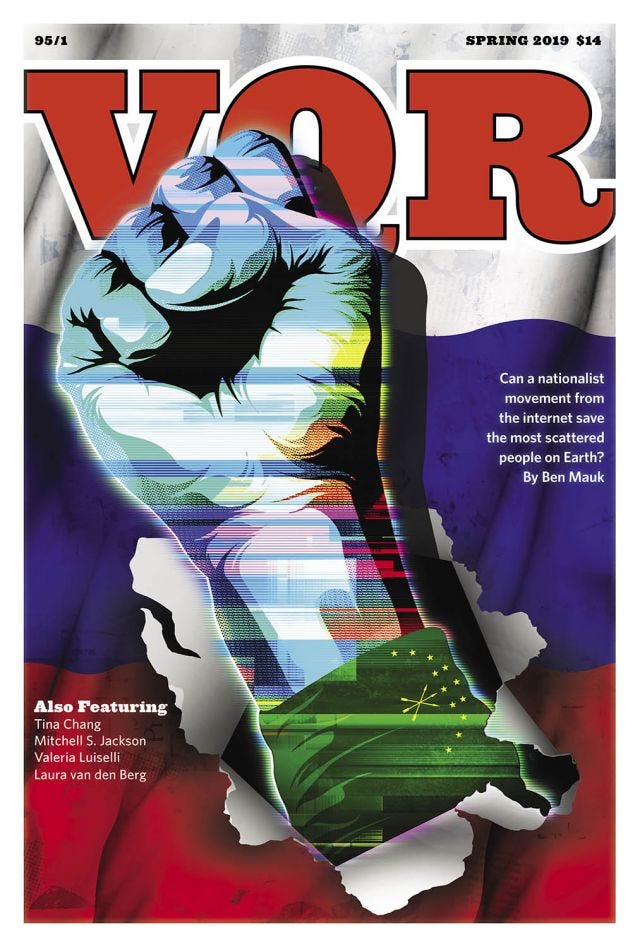 This week is the 25th annual Virginia Festival of the Book. It takes place Wednesday, March 20, through Sunday, March 24, in seventy venues across Charlottesville. There are more than two hundred programs, the majority of which do not require a ticket—you just show up! You can find the schedule here.

1. On Wednesday at 4:00 PM, I am moderating a panel on Southern Literary Fiction. Meet me at the Central JMRL Library McIntire Room for what I'm sure will be a lively conversation with authors Talley English (Horse), Michael Knight (At Briarwood School for Girls), and Kristyn Kusek Lewis (Half of What You Hear).

2. On Friday, VQR is cosponsoring—and I will be cohosting—a late-night event called Reading Under the Influence. Join us at Common House at 9:30 PM for drinks and dancing and readings from Nana Kwame Adjei-Brenyah (Friday Black), John Lingan (Homeplace), and Mathangi Subramanian (A People's History of Heaven).

3. On Saturday at noon, I will be in conversation with Adjei-Brenyah (Friday Black), Karen Bender (The New Order), and Chaya Bhuvaneswar (White Dancing Elephants) on the topic of short stories. This is always a great panel.

Ever wondered why "Celtic" is pronounced two ways? Here's my favorite Twitter account to help you out.

Some housekeeping: Within the next few weeks I'm going to move this newsletter to a different platform. This shouldn't require anything from you, and I hope it's such a painless process that you don't even notice, except that your experience will become a little more aesthetically pleasing. However, if we do encounter some bumps along the way, I hope you'll stick it out. As an old friend of mine used to say, I pre-apologize.